When you think about bridesmaids dresses, you think about some ugly colored or funny looking dress your friend made you buy for her wedding that you will probably never wear again.
This fall Bridal Fashion Week was full of Bridal Pants suites and I was loving it. But why reserve the fun and freedom of pants for just the bride. Lets spread it all around! So today lovelies, I give you Bridesmaid Jumpsuits! Yes, think about how chic it would be for your whole bridal party to be in jumpsuits!
Can you see it…I can. To help you out we have found our favorite jumpsuits that will not only have your bridesmaids looking great for your wedding but give them something they will actually want to wear again. And I am calling it now, this will be one of the trends you will see more of in 2018 weddings!
---
The LBJ ( Little Black Jumpsuit)
We all have heard of the little black dress well now we have it's cousin the little black jumpsuit. A black jumpsuit is great because it can be dressed up or down and the color will be flattering. We love this deep-v neck number for its sophisticated feel and its low price tag…Y'all its only $18. Your girls are sure to love that!
Get This Jumpsuit: Shein, $18 Crisscross Back Flare Hem Jumpsuit
Wide-Legged Wonder
Want something with a little more flair, try this silky green wide-legged jumpsuit that is perfect for a modern downtown wedding or colorful bo-ho wedding. Pair this with some dainty gold accessories and your girls will have everyone envious of their chic look.

Get This Jumpsuit: Shein, $25 Surplice Front Box Pleated Culotte Leg Cami Jumpsuit
Sparkle and Shine
We have all seen the sequin bridesmaids dress, but have you ever imagined a sequin bridesmaid jumpsuit. Well, here it is! Your girls are sure to shine brightly in this gorgeous frock. This jumpsuit is perfect for a modern or upscale bride that is looking for a little something different for here friends.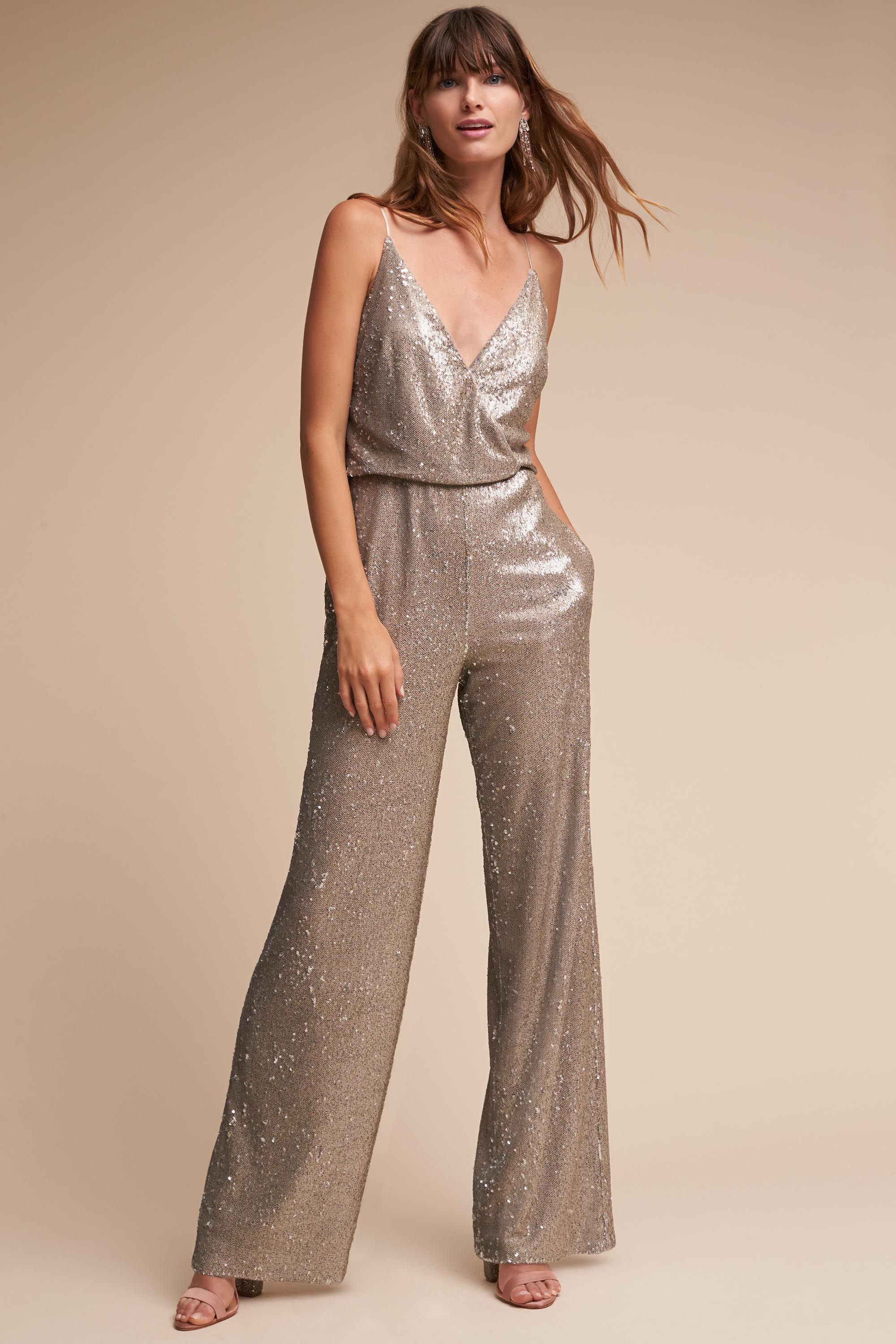 Get This Jumpsuit: BHLDN, $290 La Lune Jumpsuit
---
Love the wedding ideas you see on Bridal Gush. Make sure you sign up for our newsletter to make sure you don't miss anything and get exclusives sent right to your inbox!
---
Spice It Up
Want to have your bridesmaids really pop! Well try this red hot jumpsuit on for size. The cute off the shoulder details soften up this look, making it perfect for a summer or fall outdoor wedding.
Get This Jumpsuit: Shein, $24 Flounce Cold Shoulder Wide Leg Jumpsuit
All White Is All Right
Who says that the bride can be the only one wearing white at a wedding. An all-white bridal party is all right and can instantly add a touch of uniqueness and elegance to your wedding. Especially if your girls are rocking this little white number. The plunging neckline and wide legged pants make this jumpsuit so chic I just can't handle it!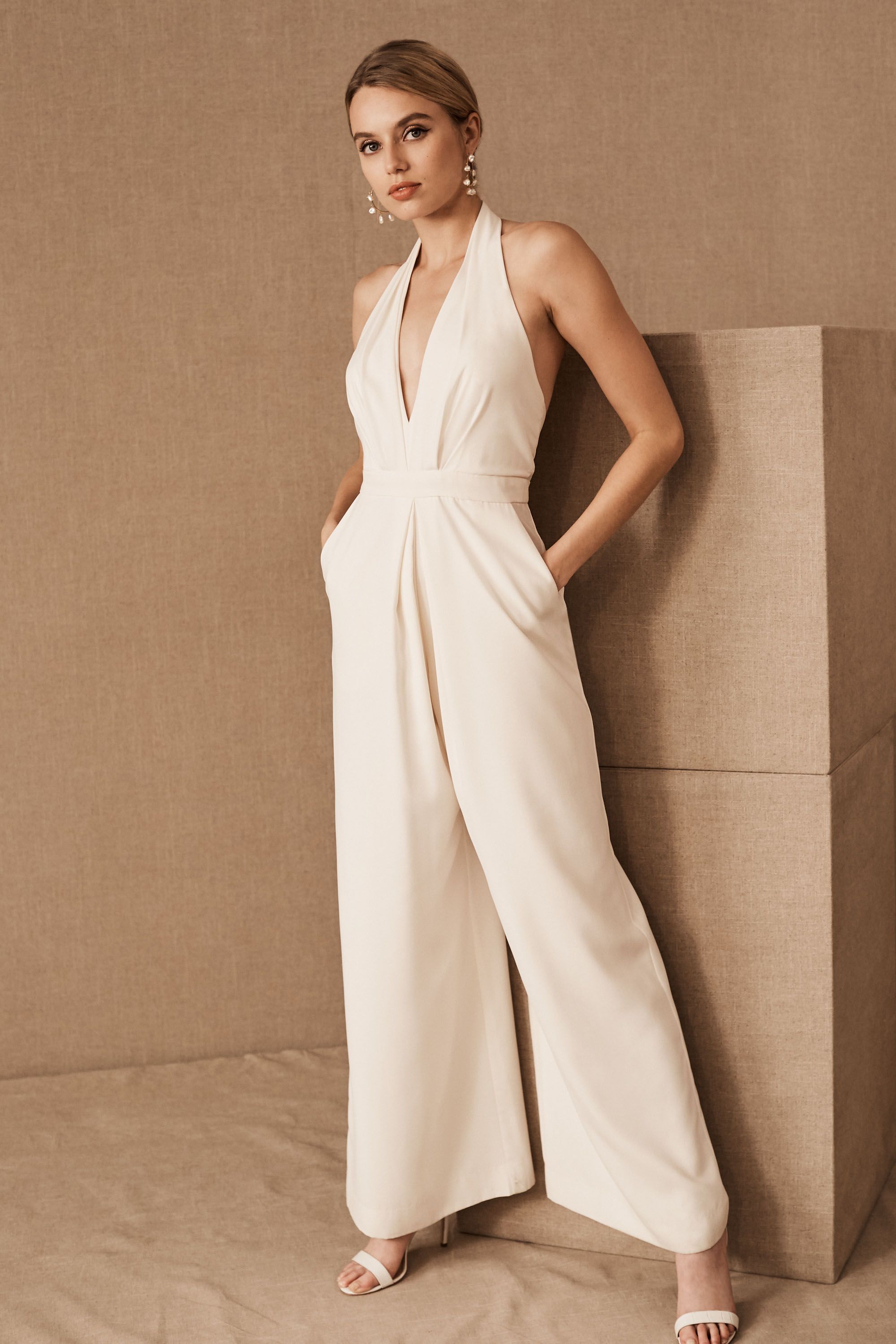 Get This Jumpsuit: BHLDN, $280 Mara Jumpsuit
Back Out Beauty
If you want a little sexiness for your bridesmaids but they aren't into the low cut thing, try this pretty little back-out beauty. The halter top gives more coverage for those who may be working with a lot in the front while still giving you that sprinkle of sexy sassiness. This jumpsuit is perfect for early fall outdoor nuptials.
Get This Jumpsuit: Lulus, $68 MOMENT FOR LIFE WINE RED HALTER JUMPSUIT
---
No lovely ladies, if you are are loving these bridesmaids jumpsuits let us know which one is your favorite in the comments below.  Remeber you don't have to just have your girls all in the same one. Mix and match these together to create a really unique look for your bridal party. Be sure to share with your friends using our Facebook and Pinterest buttons below.
If you are looking for more fun wedding trends to incorporate into your wedding take a look at my list pretty acrylic items to add to your wedding at Seeing Things Clearly With Acrylic Wedding Decor.
**This post contains affiliate links. Meaning, for the items suggested, if you purchase them using the links provided, I get a small compensation. This does not cost you anything. This allows me to create revenue to keep the great content you love on Bridal Gush going. I do not recommend items I do not believe in or haven't tried myself.